Day 7 was a little sweeter, not just because it was Saturday, but because Week 1 on the Vegan 21-Day Sugar Detox was almost over!
Breakfast: Vegetable Coconut Milk Curry with Quinoa
This is something my boyfriend cooked the other night. It is deeeelicious! In my rush to eat it though, I completely forgot to snap a pic.
Ingredients:
2 cans of organic unsweetened coconut milk
1 baked Japanese sweet potato
4-5 cloves of garlic
1 bell pepper
1/2 bushel of organic asparagus
1/2 bag of Trader Joe's Power to the Greens (organic baby kale, chard and spinach)
1/2 container of Trader Joe's organic sprouted tofu
1/2 cup of diced onions
1 tbsp of curry powder (season to taste)
1/2 tbsp of turmeric powder (season to taste)
Himalayan salt & pepper to taste
Chop up the bell pepper, onions, sweet potato and asparagus. Pour the 2 cans of coconut milk into a pot over light heat and simmer. Add seasonings along with garlic, onions, asparagus, bell pepper and mixed greens. Add the tofu and already-baked sweet potato at the very end--just enough to heat them up.
Lunch: "Not Your Momma's Black Eyed Peas Soup"
This dish is once again courtesy of my boyfriend, who's also doing the detox with me. He also named the dish.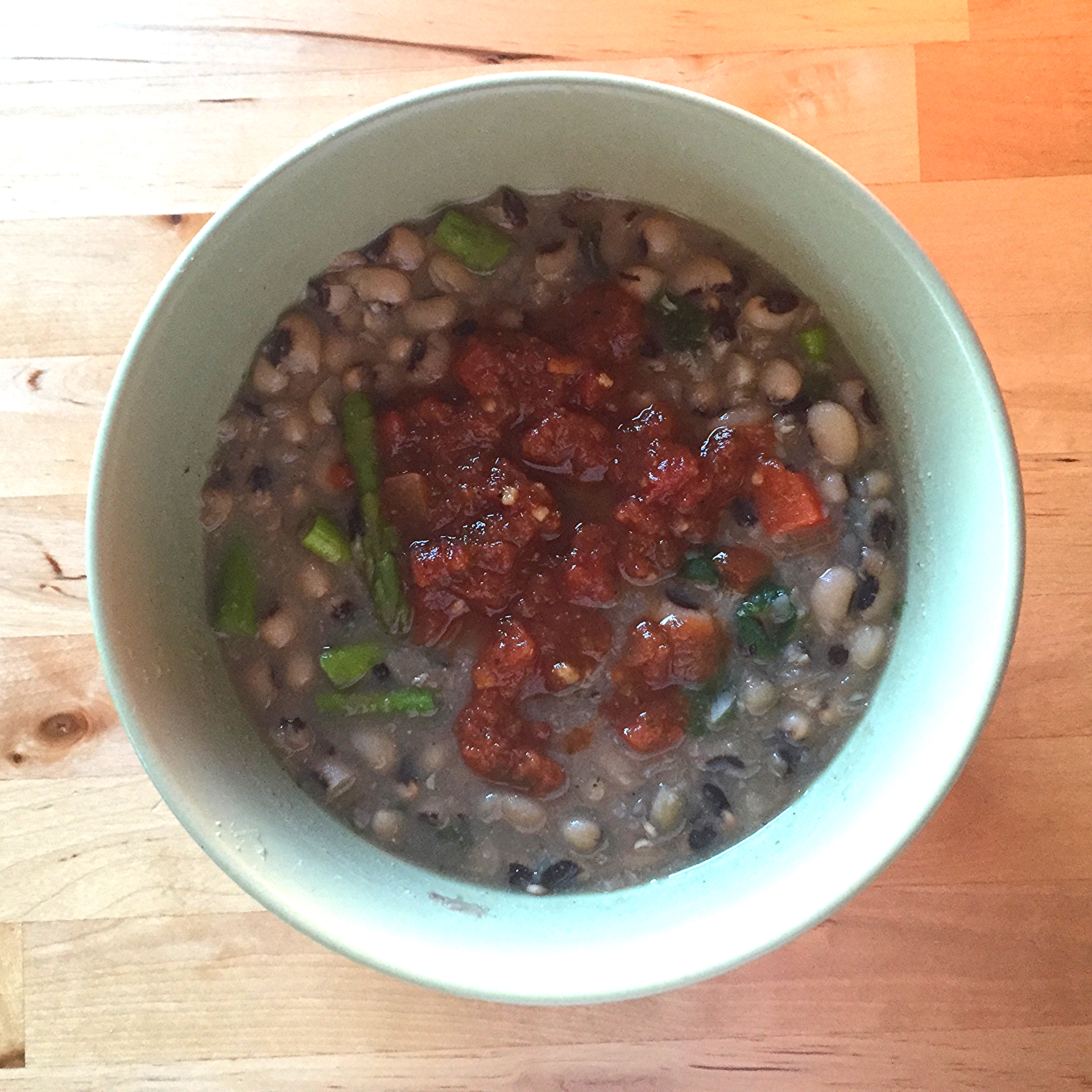 Ingredients:
1 bag of black eyed peas
1/2 bushel of asparagus
1 red bell pepper
1/2 bag of Trader Joe's Power to the Greens (organic baby kale, chard and spinach)
1/2 cup of diced onions
Himalayan salt & pepper
Garlic powder
Boil the black eyed peas for 2-3 minutes. Remove from heat and let it sit for 60-90 minutes. Drain the water. Add 3 cups of water per 1 cup of beans. Bring to a boil. Then let simmer for 1 hour. Add the vegetables long enough to heat them up. Season with salt, pepper and garlic powder to taste.
Dinner: Shaved Fennel & "Freekehlicious Salad"
Normally my social life is nonexistent on sugar detoxes since I'm limited on what I can eat and drink. So I usually end up staying home. This time, I made an exception for my friend's birthday dinner with our other college friends. It's hard to get our schedules lined up since two of them have young kids. We celebrated at Love & Salt in Manhattan Beach, California.
As a first-time vegan dining in a meat-centric restaurant, I was pretty horrified by their adventurous menu--an animal lover's nightmare. It featured things like duck egg wood-oven pizza, corned lamb tongue panini and rabbit porcheta. I thanked my friends for not getting the roasted glazed pig's head ... a meal breaker. I half-jokingly said that if they had ordered it, I probably would've eaten my food outside.
I went with two side dishes--the only ones closest to the YES foods on the detox (I didn't want to be that person who just orders water with lemon). I got the shaved fennel, minus the parmesan, which resulted in an overpowering taste of lemon and a hint of black pepper. It looked pretty bland and boring without the texture of the parmesan. The "Freekehlicious Salad" was surprisingly really good. It featured 5 grains, 5 herbs, shaved radish, black currants and toasted hazelnuts. I thought the black currants and toasted hazelnuts really made the dish. I know black currants aren't allowed on the detox but I figured I've been really good so far, and it wouldn't hurt to 'live a little' and enjoy one dish as it was meant to be eaten. I'm glad I chose to do so because even though I couldn't partake in the chocolate- and lemon-cream-filled sugar donuts, the Freekehlicious Salad left me fully satisfied.