It has been far too long since my last post, mainly because I was busy planning my vegan wedding in the California redwood forest and honeymoon along the Pacific Northwest (with a stop in Montana's Glacier National Park). I know, it's still inexcusable.
One big takeaway from the experience was the hope that a vegan world will one day exist perhaps sooner than we think. It was inspiring to see that the places my husband and I went to, from Humboldt County, California (a farming community about 300 miles north of San Francisco) to Portland, Oregon; Seattle, Washington; and Vancouver, Canada had a variety of vegan restaurants and bars that were popular not just among vegans but non-vegans as well. I know this because Yelp was my best friend on this trip, and a lot of reviews were from self-proclaimed non-vegans who were raving about vegan establishments or vegan food from non-vegan restaurants.
Even Ferndale, California--a small dairy town of about 1,400 people--has Lost Coast Cafe, a primarily vegan and vegetarian restaurant. We also thought that we were going to starve when we got to Montana, which is a meat-centric state, and yet there were a handful of restaurants that served vegetarian-friendly food that could also easily be made vegan.
As for the Amtrak train, which I'll elaborate more on later in this post, vegan food was also available, albeit limited. I was still thrilled that there were options, and felt optimistic about vegan becoming more mainstream that even trains are catering to us.
Eating Vegan in Humboldt County, Northern California
The first restaurant we ate at after arriving in Humboldt County was Woodrose Cafe in Garberville, a small town less than 15 miles south of Humboldt Redwoods State Park. They specialize in organic and natural foods, and offer a surprisingly big selection of vegan-friendly food--from breakfast items like tofu rancheros and tofu scramble, to lunch specialties like vegan and veggie club sandwiches with Vegenaise or hummus, as well as garden burgers served with a side of vegan shiitake curry soup or vegan chili.
My husband and I both ordered the rasta rancheros, which is basically a supercharged vegan huevos rancheros. It uses avocado instead of dairy, tofu instead of eggs, and for $1 more, you can add pinto and black beans for a protein-packed breakfast. I have always been a slow eater and can never finish a meal before my husband, so he was pretty shocked to see that I almost cleaned my plate before him.
Humboldt County also has a variety of health food stores that sell specialty vegan items that you can find in big chains like Whole Foods Market and Sprouts. While we were there, we frequented Eureka Natural Foods and Wildberries Marketplace. North Coast Co-op is another store that sells vegan-friendly food--in fact, I was considering having them cater for my wedding if I hadn't gone with Sweet Basil Catering (highly recommend, by the way!).
Here are a few other vegan or vegan-friendly restaurants in Humboldt County:
The Big Blue Cafe (Arcata, California) - Great place for breakfast and brunch. I ordered Karen's Potatoes, which comes with tomatoes, bell peppers and onions. I made it vegan by adding avocado and tofu scramble and skipping the cheese.
Golden Harvest Cafe (Eureka, California) - Ate here for breakfast last October when my then-fiance and I were scouting wedding venues. The food was average, but I was just happy to have found a vegan-friendly place in that area.
Portland, Oregon: The Mecca of Vegan Food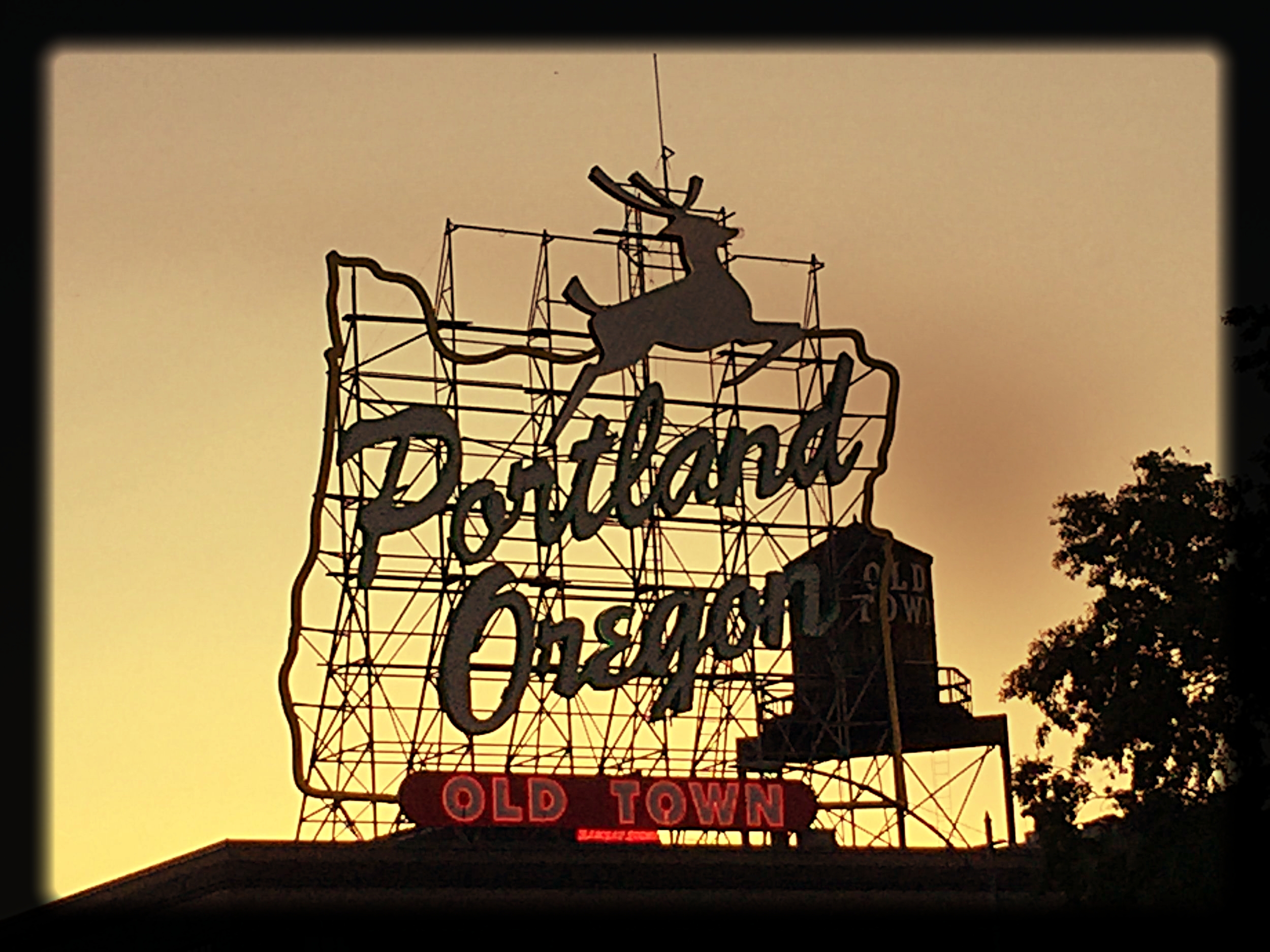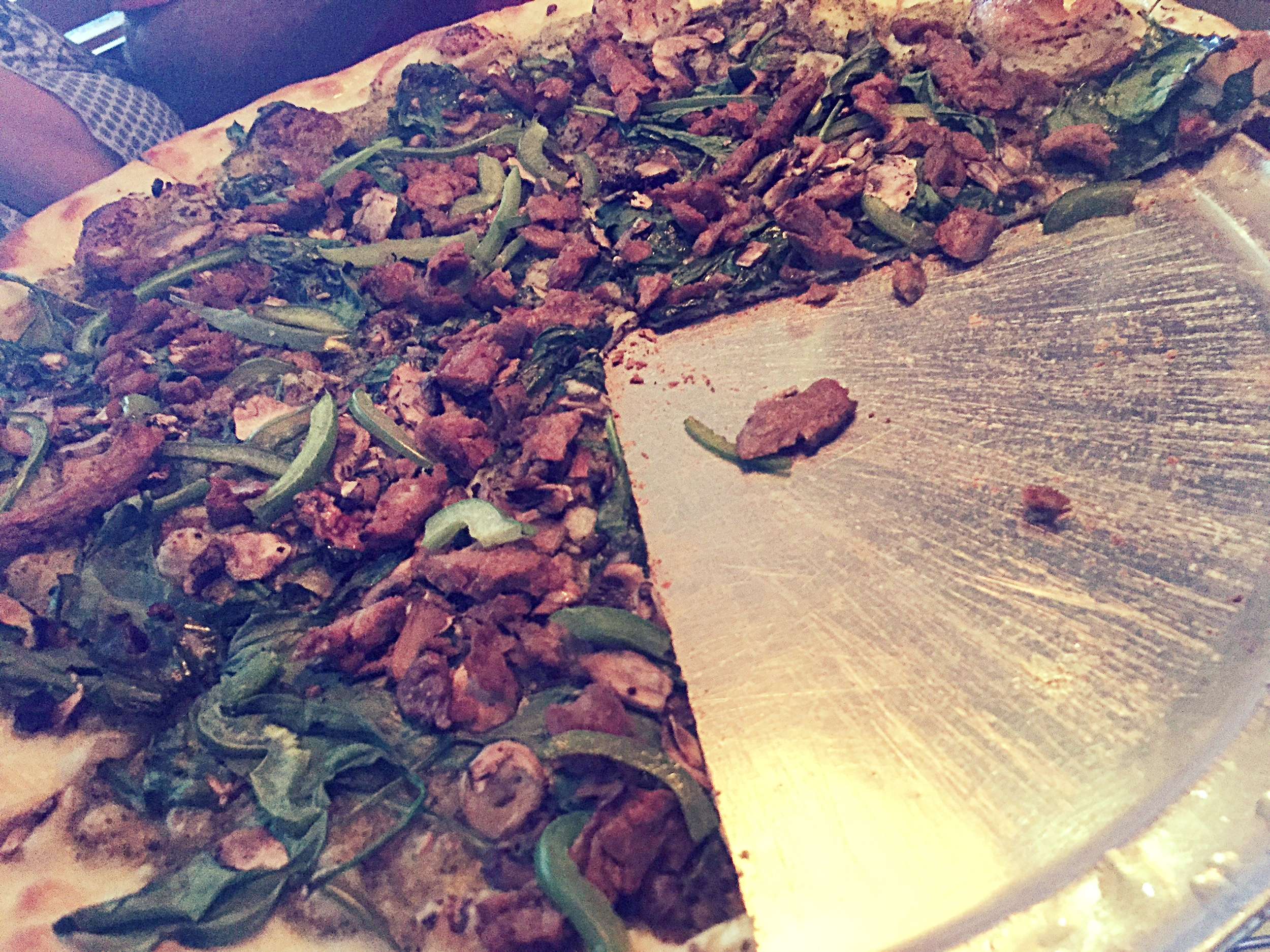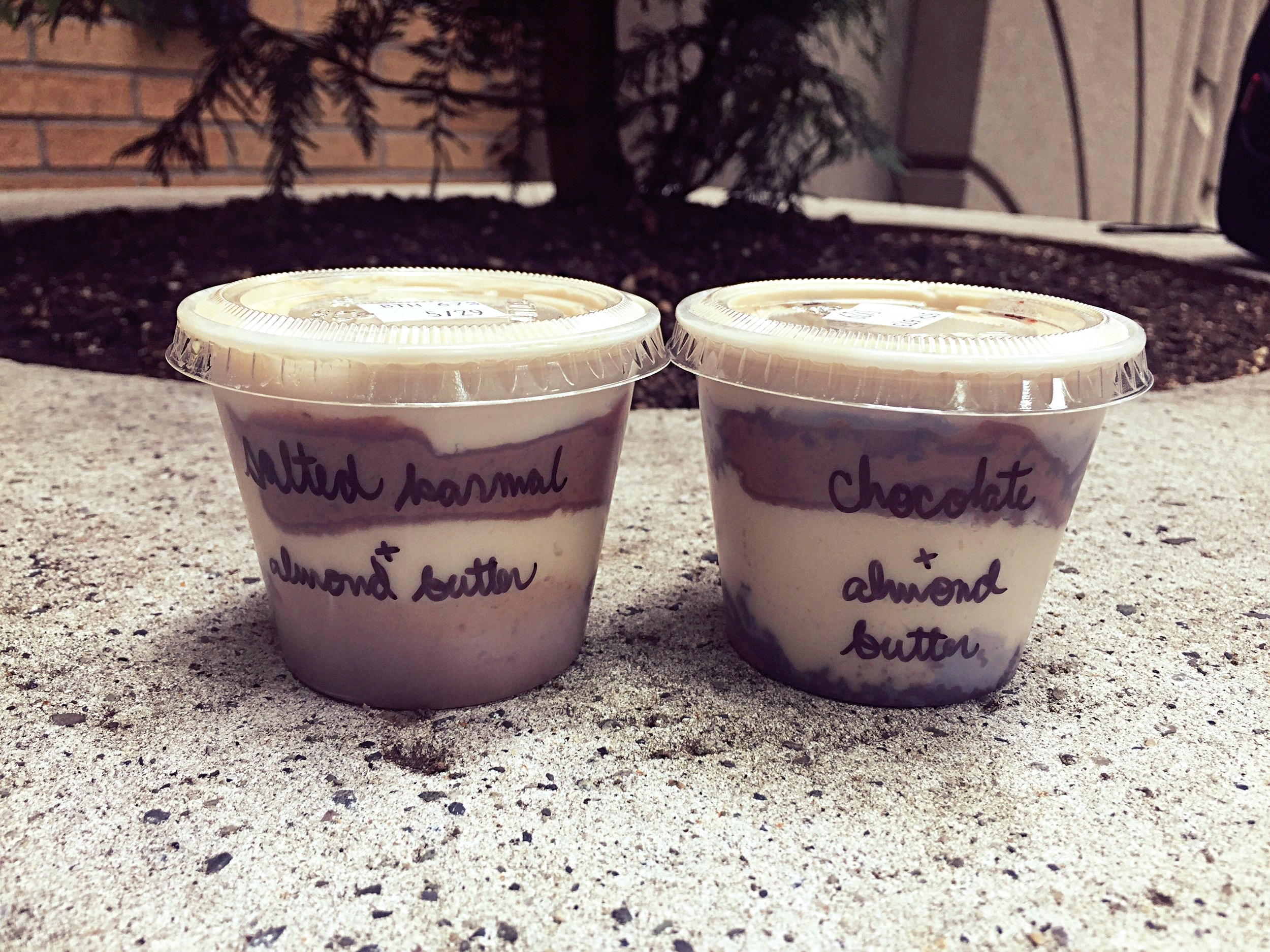 I've long thought of Portland as the heart of vegan food and eco-friendly, progressive businesses where vegans, nature lovers and liberals converge. I knew that finding good vegan restaurants wasn't going to be hard, it was just hard to decide which ones to go to because of all the options.
On our first night there, we stumbled upon Pho Van Fresh, a Vietnamese restaurant that served vegan-friendly food. We meant to eat at Los Gorditos, a vegan-friendly Mexican restaurant in Portland's Pearl District, but due to a power outage that covered multiple city blocks, we weren't able to see what all the rave reviews from Yelp were about.
We started off with their vegetarian crispy rolls filled with tofu, taro, mung beans, bean thread noodles and a ginger soy sauce. The fried wrapper had the perfect amount of light crispiness that delicately broke apart to reveal the steamy flavorful contents. We also both ordered a tofu vermicelli noodle salad, which came with a delicious miso sauce. It was a treat because when you veganize these types of salads at traditional Vietnamese restaurants, they usually only give you a thick peanut sauce since they don't have vegan 'fish' sauce. Halfway through the meal, I ran out of miso sauce and used the leftover ginger soy sauce, which took the flavors up a notch. Delicious!
On our second night in Portland, we met up with my new in-laws who drove through Portland on their way back to Missouri after our wedding in northern California. We took them to Sizzle Pie, a very vegan-friendly pizza restaurant with dedicated vegan and veggie menus. My husband and I ordered the New Maps Out of Hell pizza, which comes with creamy basil cashew spread, seasoned soy curls, plus our choice of three veggie toppings. We chose mushrooms, basil and onions. It was delicious and the crust had just the right amount of thickness and chewiness, but we both agreed that the pizza probably would've tasted better with tomato sauce as it needed a little more juice. I'd still go back though if I'm ever in Portland or their other locations in Seattle, Washington and Brooklyn, New York.
As our days in the vegan haven that is Portland came to an end, we started to feel a little anxious about our presumably limited food options in Montana--our next stop on our epic honeymoon adventure. So on our last day in Portland, we went to World Foods store and loaded up on some non-perishable vegan food like Amy's Thai Coconut Soup (Tom Kha Phak) and a couple vegan instant ramen noodles by Dr. McDougall's. We also grabbed a bunch of snacks, GoMacro peanut butter and chocolate chip bars, and instant oatmeal knowing that if all else fails, the lodge we were staying at would at least have hot water.
Scouting Vegan Food in West Glacier, Montana
After biking along the western part of Glacier National Park's bike path, which takes you on a nice, scenic, leveled ride (perfect for bike rookies like me) through pretty dense patches of trees, we started to get hungry after the GoMacro bars we snacked on started to wear off. Conveniently outside of the park's west entrance was West Glacier Restaurant, which also features a souvenir shop and bar. Thankfully the restaurant had a few vegan-friendly items like a garden burger minus the cheese (we think it was Dr. Praeger's California Veggie Burger) and tater tots. We dressed our burger with mustard and ketchup, and chowed down. Since we had worked up quite an appetite, we thought the food was pretty good and were just so glad that there was even an option for us. We actually ended up ordering the same thing on our last day there.
On our second day in Montana, we rented a car so that we could explore the eastern part of Glacier National Park, which was recommended to us by the super-friendly staff at Glacier Guides Lodge. After seeing Two Medicine Lake, Many Glacier, St. Mary Lake and hiking up to St. Mary and Virginia falls, we stopped in East Glacier Park Village for dinner at Serrano's Mexican Restaurant, also recommended to us by one of the employees at our lodge. I was expecting to just order a burrito with beans and veggies and was shocked to see that they actually offered tofu, and not just any tofu … organic garlic herb tofu!! Tofu in Montana ... who would've thought? We got two orders of their guacamole dip plus veggie, bean and tofu burritos (minus the cheese) smothered with some kind of tomato-based sauce. It was so delicious, especially when we topped it off with guacamole and washed it down with a margarita and good old Montana beer.
Sweet and Savory Vegan Food in Seattle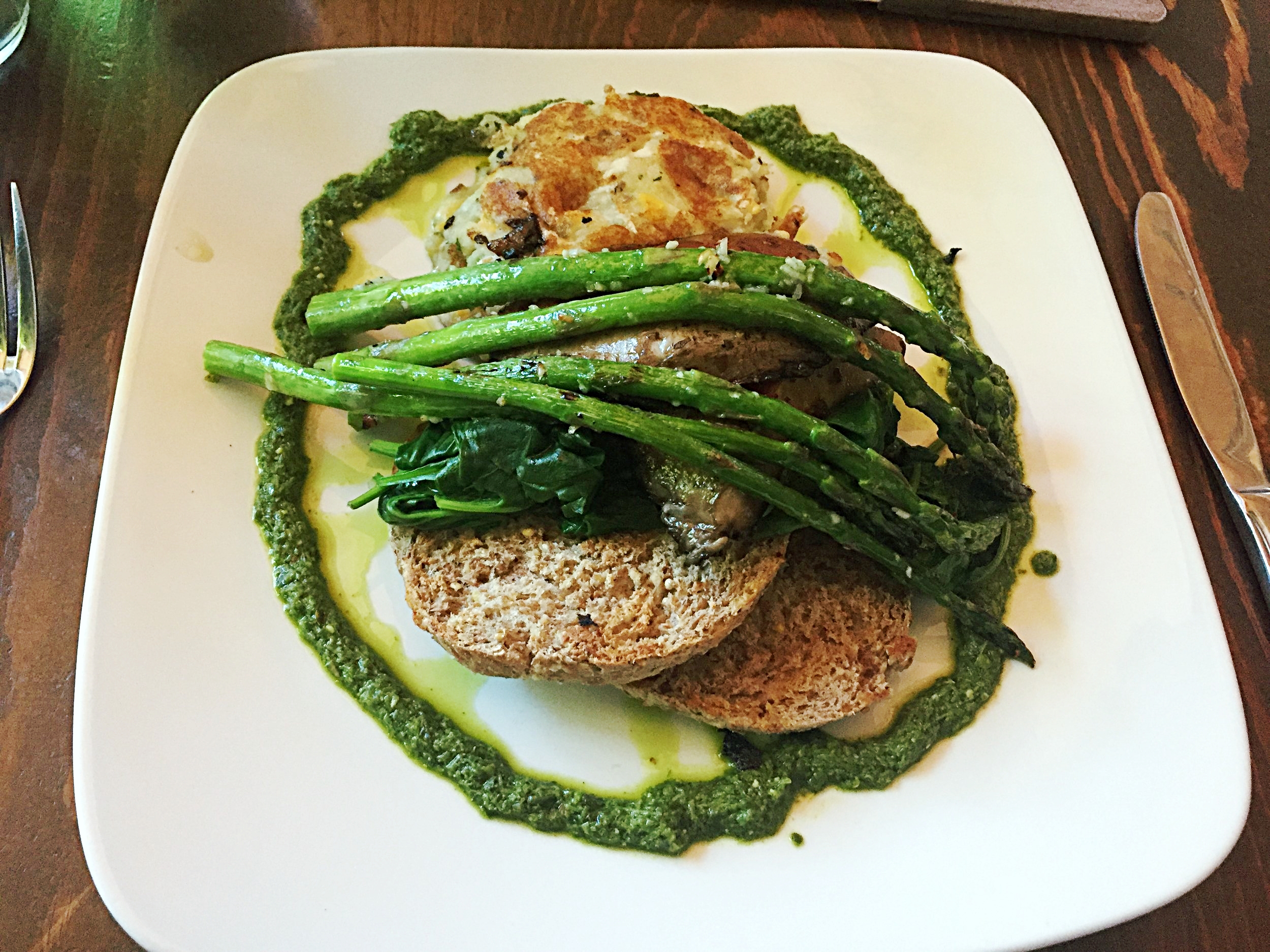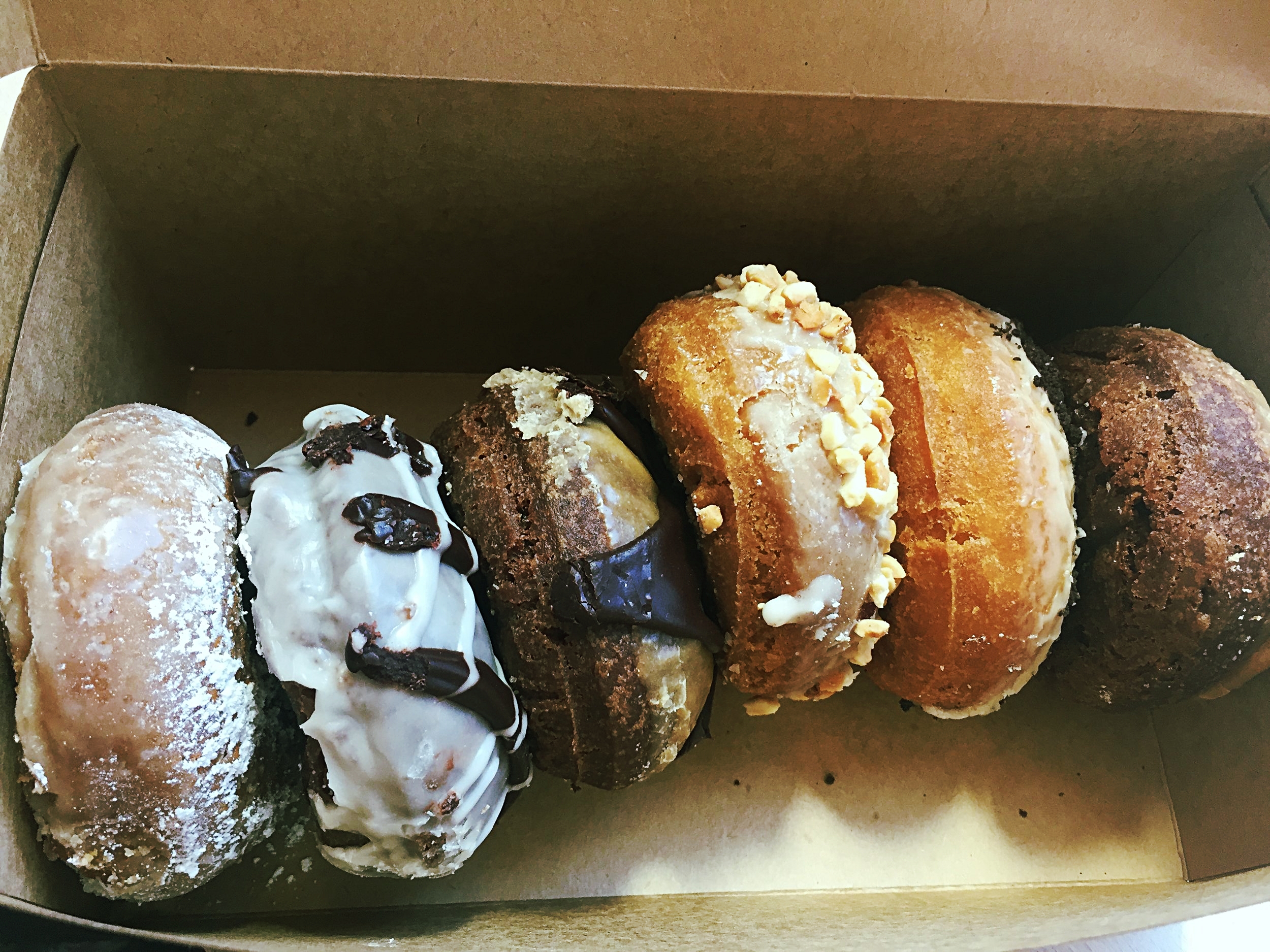 Our train from West Glacier to Seattle was delayed by two hours and by the time we boarded, dinner had already ended and they were not serving food until the following morning. The last time we had a meal was around 4 or 5 PM, so you can imagine our growling stomachs when we got to Seattle at around 11 AM the next day. Thankfully we still had some snacks leftover from Portland to break up our involuntary fasting. We stayed at an Airbnb house in Squire Park, which was walking distance to the bustling streets full of bars and restaurants in Capitol Hill.
Yelp, the best travel partner next to my husband, hadn't fail us throughout our trip, so we had our first Seattle meal at Plum Vegan Bistro based on its 4-star rating and 1,018 reviews. It was an unusually hot day in Seattle so people were dining al fresco as the restaurant's garage-door-like window was opened to let in natural air flow. Since it was a Sunday afternoon and a peak-time for brunch, the place was packed to the brim. One of my biggest peeves are restaurants with tables that leave little room for private conversations as they're practically on top of each other. Such was the case with this place, as I awkwardly slid through a narrow opening between tables to sit at the booth. But the food quickly made up for the close quarters! My husband ordered the Southern Slam, a hearty vegan dish with panko-crusted seitan, biscuits and gravy, southern grits and collard greens. I was debating between the Citrus Blueberry French toast and the Veggie Slam, but I opted for the savory dish because I thought I'd soon get sick of the sweetness of the French toast. Although my dish was good--it came with cheesy potato cakes, roasted portobello mushrooms, sautéed spinach, asparagus, a vegan pesto that it could've used more of, and an English muffin--I still almost immediately regretted getting it. My husband's dish was knee-bucklingly good, so good that the couple seated next to us both got it as well.
Although we were stuffed from our meal, we passed by a vegan donut shop called Mighty-O Donuts just down the street from Plum Bistro. After seeing the array of flavors and toppings behind the glass case, I immediately thought they couldn't all be vegan. So I asked one of the employees which donuts were vegan, and to my surprise, she said all of them were. Since I missed out on the French toast for brunch, I decided to get the Nutty French Toast donut (recommended to us) as well as the regular French Toast, Grasshopper (chocolate mint), and Peanut Butter and Chocolate. It's hard to say which ones were my favorites because they all hit the spot depending on your craving at the moment. I will say that I liked the Nutty French Toast better than the regular French Toast. It offered a little more texture and crunch because of the peanuts.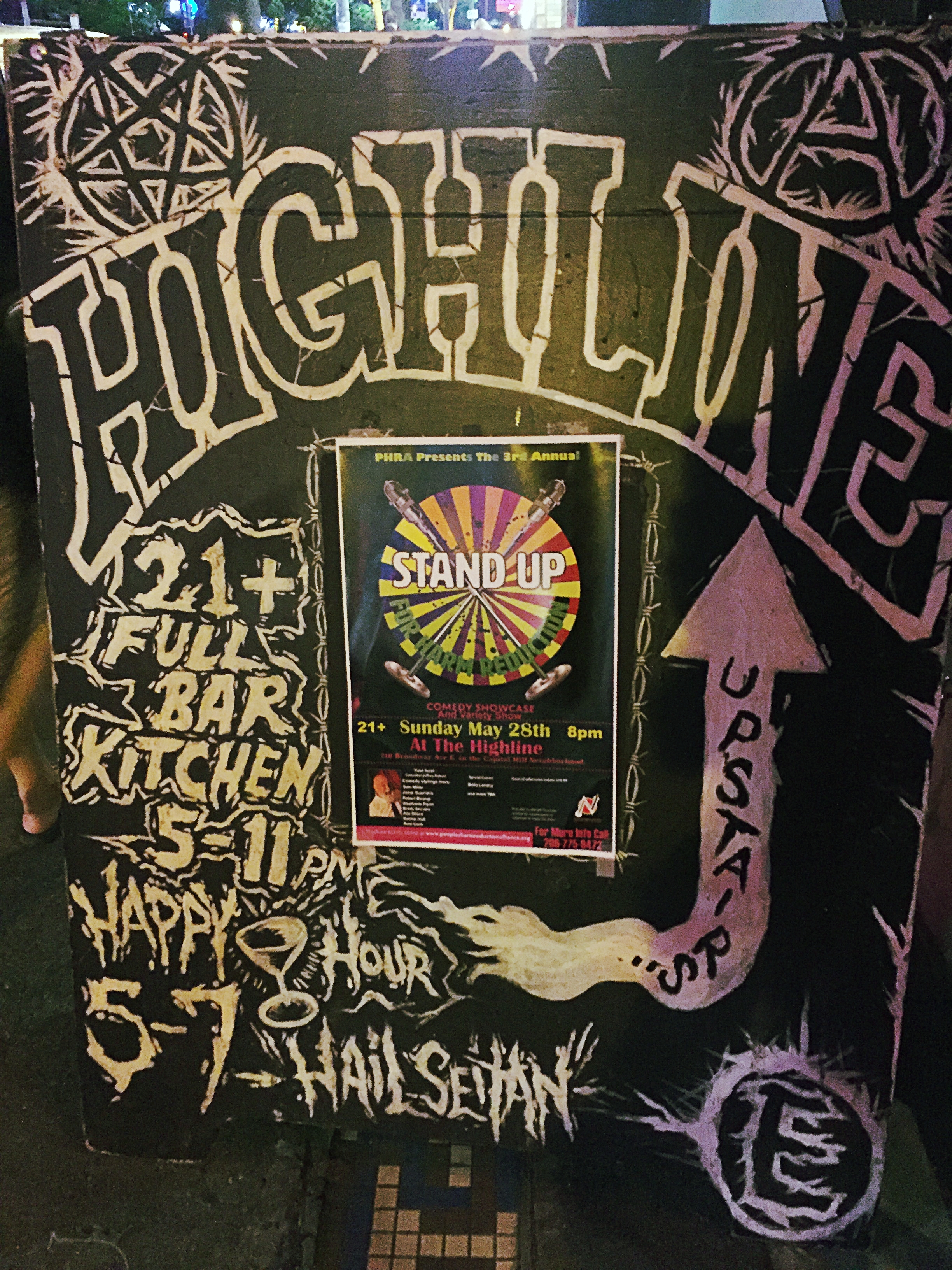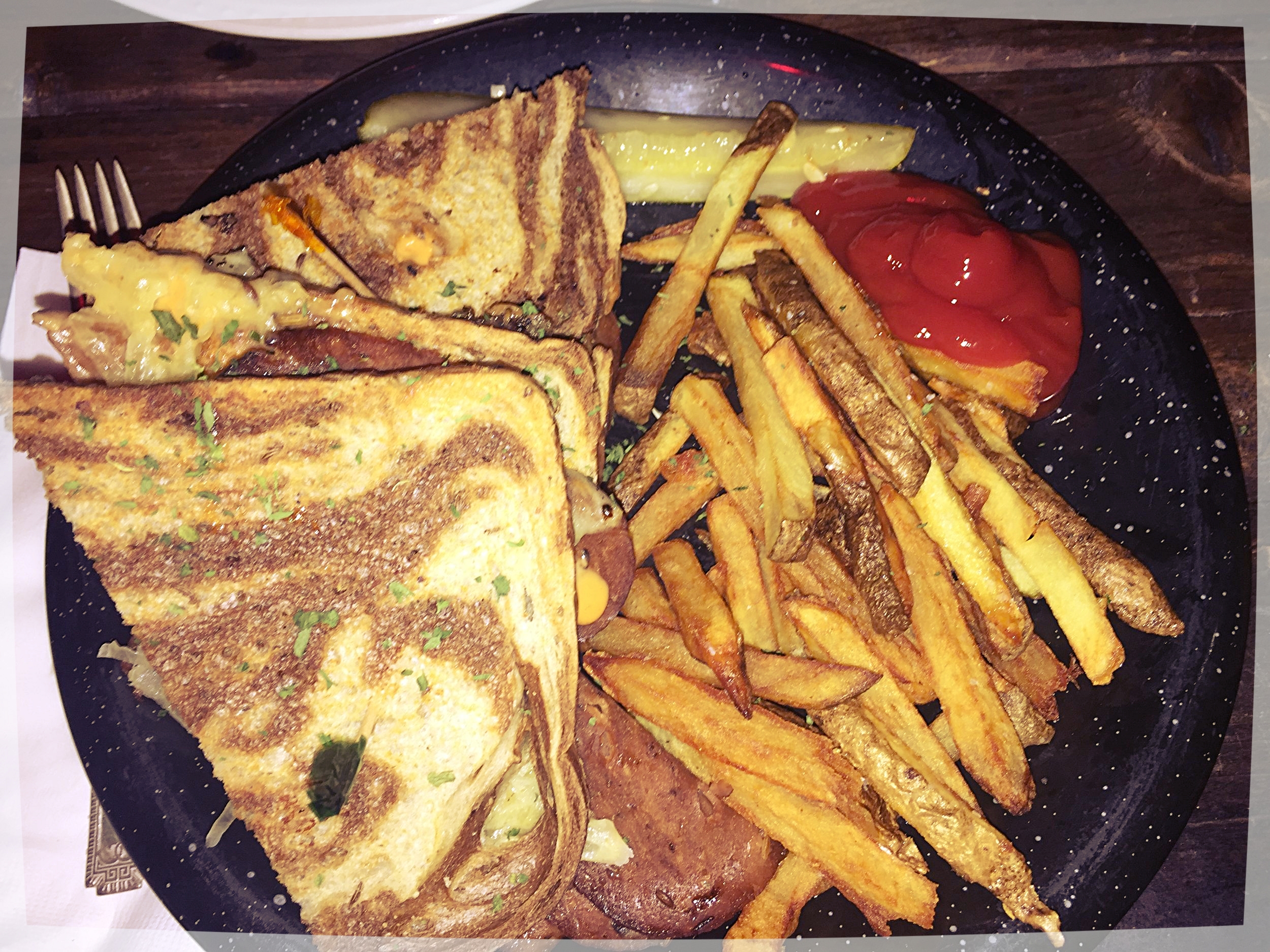 Later that night, after we slept off our food coma, we went back out to Capitol Hill for dinner at an all-vegan bar called The Highline. They were having comedy night when we got there as part of a charity fundraiser. You wouldn't think that a bar would have such a great selection of food, much less vegan food, but they had everything from your traditional pub grub to tacos and sandwiches.
My husband and I split with the Reubender (their housemade vegan corned beef, sour kraut, housemade vegan provolone sauce and Russian dressing on grilled rye bread) and vegan fish and chips (beer battered soy fish with vegan tartar sauce and fries). It was sooo good!! My regret is not going back there for seconds before leaving Seattle. It's a shame that Los Angeles doesn't have an all-vegan bar--we have some catching up to do!
The following morning, we grabbed a couple vegan Thai wraps from Central Co-op, a Seattle and Tacoma community-owned natural foods store. We wanted to eat something light because we were planning on walking to Pike Place Market and thought it was best to leave some room in case there was vegan food for us to try. When we got there, all we could smell was seafood, naturally, since that's one of the things for which they're known. We walked past the various vendors, bought a couple souvenirs and my eye caught a sign for vegan cinnamon rolls. I thought, "Yes! I finally get to try one!" Unfortunately, they ran out of it as it must've been pretty popular. I was happy about that though--that a vegan pastry amidst a sea of non-vegan baked goods would sell out so fast. So instead we got a giant vegan chocolate chip cookie almost the size of my face. I enjoyed it more than my husband did, but it did taste more cakey than chewy.
After touring the area, we finally settled on a late lunch/early dinner at Rocco's, a trendy restaurant that had more of a gastropub vibe. It had several shelves full of hard liquor lining nearly the entire wall that ran the length of the restaurant. Their vegan pizza was one of the best ones I've had, but also the most expensive. Since we were customizing our pizzas, the toppings added up fast. We split the pizza and got vegan cheese (I think it was Daiya), mushrooms, garlic and vegan Field Roast Italian sausage on one half, and for the other half, we swapped the mushrooms for fresh basil. We ended up paying over $80 for our meal because the vegan cheese and Field Roast weren't included in the $36 4-topping half pizza; they were considered specialty toppings--AKA pricier. What's worse is that we were leaving Seattle for Vancouver, Canada early the next morning and didn't have the time or appetite to finish our $80 leftover pizza. Ouch!
Vegan Food in Vancouver, Canada
On our first night in Vancouver, we had dinner at MeeT in Gastown and oh my goodness, I can count with one hand when food was so mind-blowingly good, when in between chewing you just hear me saying "mmm mmm mmm!!" Well, the food at this place falls under that category, so much so that my husband and I ended up eating there again on our last night in Vancouver. I didn't want to regret not trying their other dishes.
This was one of the vegan restaurants that had a lot of Yelp reviews from non-vegans raving about the food. It also gets really packed, and even though we had dinner around 8:30 or 9 PM, it was still really full. Thankfully, we were able to get seated right away because the party that had called in to semi-reserve (they don't take reservations but you can call ahead to give them a heads up), weren't there yet.
Here's what we ordered on both nights (ALL worth trying!!):
Chili Cheez Fries - This was their housemade two bean chili topped with cashew sour cream and vegan queso over fries. It was my first time trying vegan chili cheese fries and it totally brought back happy memories because chili cheese fries was one of my all-time favorites before becoming vegan (that and chili cheese nachos).
Groovy Gravy Fries - I guess this would fall under the category of poutine, a Canadian specialty, except there were no cheese curds--not that I missed them! The crisp fries perfectly balanced the richness of the cashew gravy and the green onions just enhanced all the flavors. It's one of those savory dishes that you can't stop eating. Each bite makes you crave even more.
The Lovely - I was pretty proud of myself to get this dish because it was probably one of the healthier options on the menu. I could've easily gorged solely on fried, fatty foods. This one was a bowl full of kale, broccoli, roasted red peppers, shredded carrots, marinated tofu, brown rice and toasted coconut bacon (it was delicious and the dish definitely could've used more of it) all in an almond satay sauce.
The Mighty Mac Burger - My husband ordered this and loved it. It was their house smoked vegan patty with their mac'n'cheez, pickled jalapeños, vegan chipotle mayo and two onion rings.
Crispy BBQ Burger - This came with their housemade, beer-battered vegan patty, onion rings and Chao cheese smothered in whiskey BBQ sauce. It was a party of flavors in your mouth!
Mountain Burger - This featured their housemade vegan patty with chili and we added vegan cheese. It basically combined everything we loved about the chili cheese fries and their burgers. So if you don't have the appetite for both, just go with this burger and enjoy the best of both worlds. Yum!
Cronut - As stuffed as we were, I believe in the saying that there's always room for dessert. We went with their vegan cronut, which had a vanilla cashew creme filling and cinnamon sprinkledon the outside. Pretty simple but it hit the spot.
MeeT's About page says they're "a comfortable room to connect with friends", but I say they provide both a comfortable space and comfort food that both vegans and non-vegans can equally enjoy and appreciate. Now I just wish they would open another location in Los Angeles!
On our second night in Vancouver, we had dinner at Zend Conscious Lounge, located in the heart of trendy Yaletown. The concept behind this restaurant is enough to make you rate it 5 stars. 100% of their profits go to charity, and their website states that their "vision is to have a conscious community full of empowerment, love and care." When we arrived at the restaurant, they were playing a movie on their projector screen about kids in and out of foster homes--a pretty heavy, emotional movie, but captivating (my husband wanted to stay until the movie ended even though we had finished our food). It was related to the charity they were raising money for that day.
We started off with their housemade vegan cheese plate as our appetizer. Not only was the presentation perfection, the creaminess and flavors of the assorted cheeses were divine. I can't remember what they were all made out of but I think most were almond- and cashew-based cheeses. One was like a smoked paprika type of cheese, and my favorite was the mushroom truffle cheese. Even my husband who doesn't like the flavor and texture of mushrooms said that was his favorite, too. The spread also included walnut basil pesto, dried apricots, spiced seeds and nuts, apple slices, and seed crackers to complement the different cheeses. We washed it down with Beet Stress cocktail made with Kava elixir, beets, apples, oranges, carrots and lemons. Kava is a traditional herbal drink used for thousands of years in the South Pacific. I had never tried Kava before, but it tasted like soil; I think that was because of the beets. Other than that, I'd say it was a pretty refreshing drink that definitely tasted healthy.
Since I was still bummed about missing out on the vegan French toast from Plum Vegan Bistro, I opted for the buckwheat pancakes as my main dish. It came with coconut whipped cream, fresh fruit and maple syrup (after all, we were in Canada--I had to get their maple syrup!). My husband got their raw tacos, which were my next choice if I hadn't ordered the pancakes. Once again, he ended up going with the best-tasting dish. It featured vegetable-based taco shells, which were dense and pliable, not thin and crispy since the whole dish was raw. It was filled with a dehydrated seed and spice mixture, red cabbage, guacamole, pico de gallo and cashew queso. This is one of the dishes I still crave today.
One thing that I later learned about the restaurant's owner is that his inspiration behind the plant-based concept was his incredible story of beating the odds. Aside from becoming a wealthy CEO at 21--after dropping out of high school at 14--Steve Curtis overcame a rare and terminal cancer that he was diagnosed with at 25. He channeled all his energy toward learning about alternative healing, with the help of researchers, shamans and authorities in the medical field. You can learn more about his fascinating story here.
Vegans Welcome Onboard the Amtrak Train
Before I booked our multi-stop train tickets for our honeymoon, I made sure to research the food provided by Amtrak. I didn't want to be stuck on a train for 13-14 hours without any food if they didn't have anything that was vegan. To my surprise, vegan food on Amtrak is readily available on their long-distance trains. Even with a coach ticket, a vegan meal is available without you having to call ahead to make arrangements. This is one of the things I was most excited about and gave me hope for a vegan world. There's obviously enough demand for it that even Amtrak caters to vegans, although mainly vegetarians. Still though, that's huge!
The only bad thing is that there weren't any vegan breakfast items in the dining car--only lunch and dinner. Almost all their breakfast foods had eggs, if not cheese, meat and butter. I guess we could've ordered their scrambled eggs that came with roasted potatoes or grits, and just omitted the eggs, but I wasn't willing to pay $8.50 for a plate of potatoes and their grits probably had butter.
The only real vegan option on their lunch menu is the black bean and corn veggie burger. Their buns are vegan compliant, as stated on their menu. It also comes with kettle chips, which I was never really a fan of because they're too crunchy and I always feel like I'll chip a tooth, but hey, at least they're vegan!
Their dinner menu has a section called "Healthy and Flavor Forward Specialties", which you can ask your server about. I guess it's supposedly a different item depending on when you go. The menu states that it's "vegan compliant and a healthy option for those seeking bold flavors with reduced calories, fat and sodium." When we asked what it was, they said it was basically the vegan version of their Vegetarian Asian Noodle Bowl, a fixed item on their menu that's under the ACAT (Amtrak Culinary Advisory Team) Inspired Special section--also based on availability. I had a feeling that the two were actually one and the same, because although we ordered the Healthy and Flavor Forward Specialty vegan noodle bowl, which was supposed to be low sodium, it was a little too salty for my liking. For $3, you can also order a garden salad with balsamic vinaigrette. Our salad actually came with our meal though.
For light snacks, they have a lounge car that has carryout-style foods like chips, beverages and even liquor, wine and beer. They also had a microwavable vegan burger but after I read the ingredient list (a lot of foreign-sounding ingredients), I decided against it and stuck with our own snacks that we brought on board. There are also tables and outward-facing seats so you can enjoy a board game with friends and family or just sit back, relax and enjoy the ever-changing scenic views that you wouldn't normally see by car or plane.
Signs that Vegan Food is Everywhere
Although we traveled along the Pacific Northwest in cities where there are substantial options for vegan food, we also found ourselves in areas or situations where our options were limited. It gave me hope knowing that even in the unlikeliest places, a growing demand of vegan food exists ... and that perhaps a vegan world isn't in the far-distant future. After all, there are many signs that vegan food is everywhere, and the world is finally waking up.