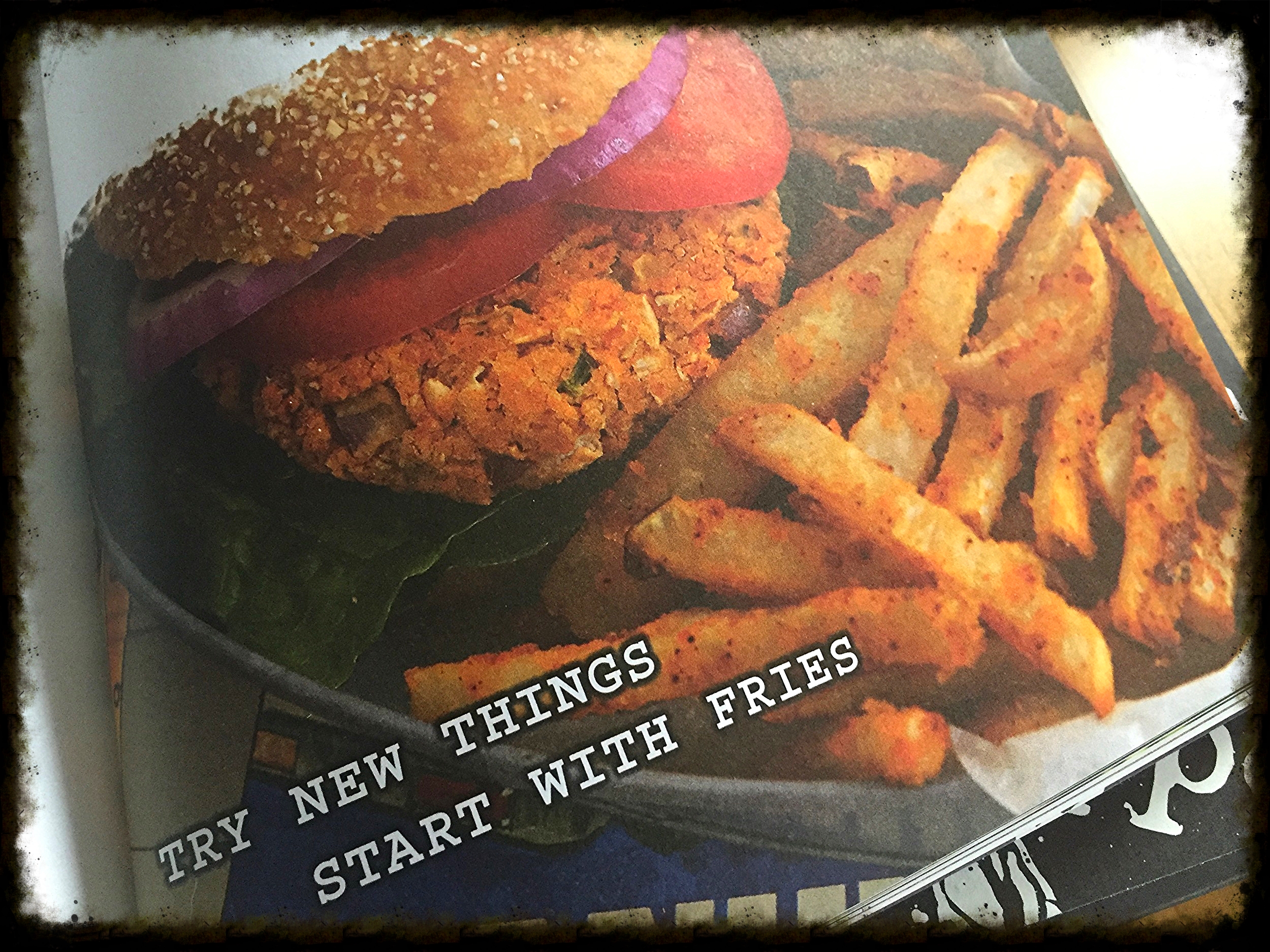 Just to give you an idea of this recipe book's tone and style, the chapter names include "Carpe F-cking Diem - Breakfast", "Short Order Sh-t - Salads, Sammies, and Mini Meals", and "Big-A$$ Cup of Cozy - Soups and Stews".
It's funny because when you think "vegan", your first thought is probably of someone who is more on the sensitive side. I doubt you'd immediately think of some tough guy who uses crude, obscene language—someone who's a little rough around the edges. (Although, after a search online on who the authors are, turns out these "thugs" are a young white couple in Los Angeles.)
Thug Kitchen is all about making you want to "eat like you give a f-ck"—their motto—not just by using F-bombs in every other sentence, but through their simple, delicious recipes paired with drool-worthy foodie pics. The authors explain in the book's intro that they created the Thug Kitchen website to "inspire motherf-ckers to eat some g-ddamn vegetables and adopt a healthier lifestyle." When they started learning how to cook, they couldn't relate to the "beautiful bloggers in their big-a$$ kitchens waxing poetic about fennel pollen"--as there seems to be an "aura of elitism surrounding eating well, and so many people tend to associate health with wealth."
So Thug Kitchen is the antithesis to that "elitism"--it's a simple, straightforward, no B.S. way to eat healthy in the real world. Most people don't have time to spend hours cooking and shopping at various specialty or pricey health-food stores. With recipes from Thug Kitchen, a lot of the ingredients can be found at the average grocery store. I also love that these ingredients are common enough to be used in multiple recipes so that you're not stuck with a bunch of ingredients you will rarely use again.
You can buy this recipe book in all its expletive-laden glory right here.
Here's how the white bean and red lentil burger turned out:
Ingredients I used for this recipe:
1/3 cup uncooked red lentils
2/3 cup water
3 cups of cooked white beans (I used Trader Joe's Cannellini White Kidney Beans)
1/2 yellow onion
3 cloves garlic, minced
1/2 cup breadcrumbs
1 1/2 tsp smoked paprika
1 1/2 tsp Trader Joe's Everyday Seasoning
1 tsp ground cumin
1 tbsp olive oil
About 1/2 tsp Himalayan salt
Juice of 1 lime
Olive oil to coat the baking sheet
Burger fixings:

Buns
Tomatoes
Trader Joe's Avocado's Number Guacamole
Leaf Cuisine Smoky Gouda Probiotic Cashew Spread
Field Roast Vegan Chao Slices Tomato Cayenne with Spicy Pepper
Directions (based on Thug Kitchen, which you can buy here):
Combine the lentils and water in a saucepan and bring to a boil. Reduce the heat and let it simmer for about 10 minutes (or until lentils are soft and mushy and the water is almost gone). Drain any extra water and let the lentils cool.
In a large bowl, mash the lentils with the rest of the ingredients (minus the cooking oil and burger fixings, of course). You may have to add more breadcrumbs if the mixture is too wet to clump and hold its shape. Shape the clumped mixture into patties. Grease the baking sheet with oil, and place the patties onto it. Chill it in the fridge for a minimum of 30 minutes, or up to 4 hours.
About 10 minutes before your'e ready to cook them, turn the oven on to 400˚F, and lightly coat the patties with oil (if you don't have a cooking spray, you can use a brush to lightly coat them). Bake for about 30 minutes (but flip them about 15 minutes in). When they're golden brown on both sides, you're ready to place them on the buns and dress it up with all the fixings you want.